Since 2009, the Maddox Fund has awarded over $23 million in grants to more than 150 organizations. Our founders had a commitment to  young people, a love of nature and a passion for hunting and fishing. The board of directors, comprised of volunteer community leaders, oversees the fund's operation and grantmaking.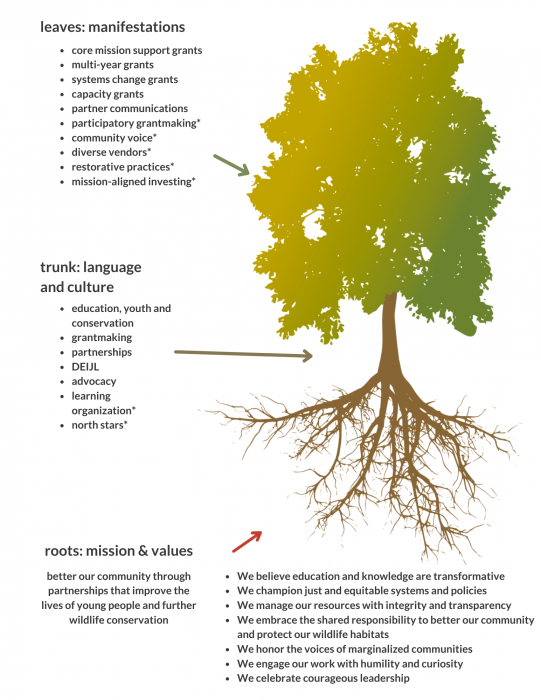 Firmly planted together in community, trees offer us a way of understanding our own work.  At Maddox's roots are its mission and values.  Language and culture shape the way we conceptualize ourselves so the ideals and philosophies that form us are in the trunk.  Finally, the leaves represent the current manifestations of how we do the work and we recognize that can and do change over time.  Maddox's work is constantly evolving and the concepts marked here with an asterisk represent the new directions we're headed this year.
We invest in efforts that focus on or support the following:
The Dan and Margaret Maddox Fund serves the 41 counties of Middle Tennessee listed below. Programs must operate within this geographic area. 
Bedford, Cannon, Cheatham, Clay, Coffee, Davidson, Dekalb, Dickson, Fentress, Franklin, Giles, Grundy, Hickman, Houston, Humphreys, Lawrence, Lincoln, Macon, Marion, Marshall, Maury, Montgomery, Moore, Overton, Perry, Pickett, Putnam, Robertson, Rutherford, Sequatche, Smith, Jackson, Stewart, Sumner, Trousdale, Van Buren, Warren, Wayne, White, and Williamson
As an organization, the Maddox Fund has been evolving since our inception in 2008. This has meant a shift from very traditional grantmaking practices to our commitment to equity that has made reduced barriers for nonprofit organizations and gotten grant funding to more organizations led to people of color. Click here to see the directions we're heading.