The Maddox Fund is committed to helping create a more just and equitable community.  We fulfill this commitment with our partners by recognizing and addressing the systemic injustices that have marginalized communities and continue to leave many people behind.  We engage in and reimagine partnerships to advance education,  young people, and wildlife conservation.
Undergirding this commitment is the conviction that all human beings are interconnected, not just with one another, but with all of nature – a belief that makes our desire to foster connection and a sense of belonging even more urgent.
"Transformation Toward Liberation"
Read how the work of our Equity Leadership Team
is shaping the way we do our work.
Equity Research
We took time to listen to our partners.
See what we learned.
embracing differences in race, ethnicity, national origin, citizenship, age, faith tradition, religion, sexual orientation, gender identity, ability or disability in order to diminish historic barriers and disadvantages and to reduce bias
providing the resources and support needed to help marginalized individuals and organizations thrive, thereby ensuring we can no longer predict advantages or disadvantages based on our differences
elevating the values, voices, styles, experiences and identities of people who have continually been marginalized, thereby increasing shared understanding, dignity and the opportunities to belong and succeed
dismantling historic systems that have marginalized our neighbors and creating new liberating systems to take their place
a world in which people and planet flourish together in regenerative systems free from oppression and threat
The Maddox Fund recognizes that racism and oppression are manifest at multiple, interconnected levels.  Violence and oppression must be addressed at all levels to move us toward our shared liberation.
For more on how Maddox understands this, please see this video.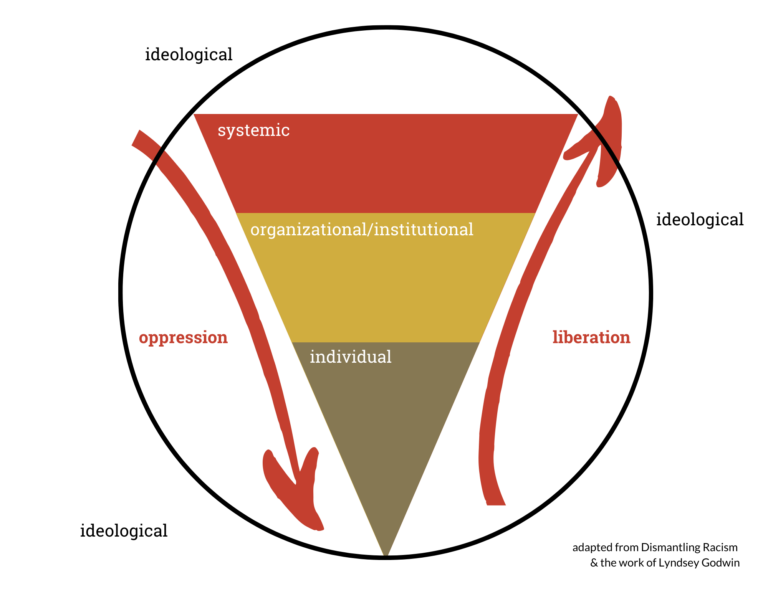 We have compiled a number of resources we found helpful to us on our Equity Resources page.  Our learning is ongoing and we welcome any discussion.  If you have any questions, thoughts, suggestions, or just want to talk, please contact us.