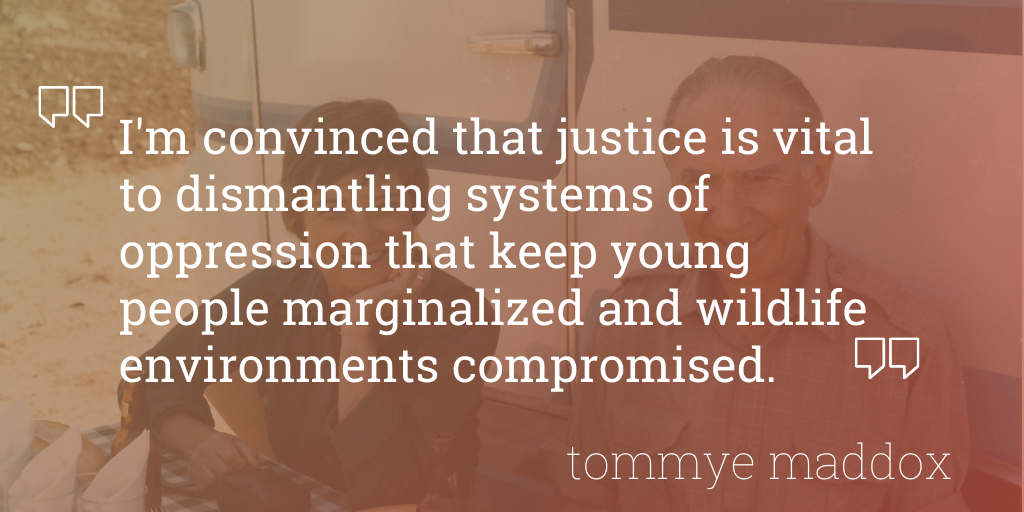 A year ago, many in the community joined us at Casa Azafrán Park for a celebration of the 10-year anniversary of the Maddox Charitable Fund. While we were celebrating, the foundation was at the same time working through challenging conversations about Diversity, Equity, Inclusion and Justice.
The Maddox Fund has been a traditional funder focused on strong management, measurable outcomes, sustainable financial plans, and grants that are right-sized to the previous year's revenue. While these hallmarks will remain in place going forward, a 2017 panel on education took us down an uncharted road of discovery that has occupied much of our staff and board time since then. The panel told us that:
Black students are suspended at a rate three times higher than their white counterparts; and
Severely economically disadvantaged students are 3-4 years behind their peers from wealthy families.
Maps of low performing schools were superimposed over redlining maps and the correlation was clear: inequity in education is rooted in historic systems of oppression based on race. The low-income youth that Dan and Margaret Maddox cared so much about were in neighborhoods long neglected, or worse, harmed, by public policies and the inequitable distribution of resources. Not surprisingly, the waterways running through those same communities were contaminated with toxins, often not originating with the residents themselves. Not only race, but differences in ethnicity, national origin, citizenship, age, faith tradition, sexual orientation, gender identity, and ability continue to allow some to advance while others are left behind or pushed aside.
The Maddox Fund will remain focused on improving the lives of young people and furthering wildlife conservation (including hunting and fishing), while also committing anew to helping create a more just and equitable community by dismantling historic systems that have marginalized our neighbors and by creating liberating systems to take their place.
At our called board meeting in September, where the Maddox Fund affirmed its commitment to equity, a board member observed that "Maddox is in a state of becoming." This was echoed by another observation about how we will be "living into" our new commitment. Over the next several years we will be reimagining how we make grants to support wildlife conservation and young people hand-in-hand with a commitment to equity.
"Undergirding this commitment is the conviction that all human beings are interconnected, not just with one another, but with all of nature – a belief that makes our desire to foster connection and a sense of belonging even more urgent."

Maddox Equity Commitment
In our state of becoming we know two things:
First, The Dan and Margaret Maddox Charitable Fund will become the Dan and Margaret Maddox Fund. As equity and justice become part of the Maddox lexicon, the word "charity" does not fit our emerging identity. Charity separates us into categories of savior and needy, powerful and powerless, haves and have-nots. The Maddox Fund will seek to mitigate the undeniable power dynamics that separate partners into funders and "grantees."
Second, the 2020 Maddox application will have a new section focused on equity. Two questions will give our partners a chance to tell us about their understandings of equity and about how Maddox can help advance their conversations about it. This expands on our work over the past several months, where we sought partner input into our equity conversations. The Maddox Fund is in a season of listening and discernment as we live into our vision of equity and justice.
Regarding the name change, Tommye Maddox, a long-time board member, said: "My grandparents always leaned into change as the community grew. They would see the importance of breaking down the foundation-grantee hierarchy.
"Nonprofits are our partners and are essential to meeting our foundation's mission – we have a symbiotic relationship," she continued. "I'm convinced that justice is vital to dismantling systems of oppression that keep young people marginalized and wildlife environments compromised."
Over the past year, we have engaged many of our community partners in conversations about equity. We have talked about what keeps nonprofit leaders up at night and about their dread of having yet another expectation from a funder heaped on top of a mountain of other requirements. We have heard about reluctant board members concerned about the impact of change on fundraising – as well as about equally anxious nonprofit CEOs who face the daunting task of guiding boards to new understandings around race and our LGBTQ+ communities, among other justice and equity issues. We have joined you at trainings where we came to terms with decades of oppression and identified next steps toward righting historic wrongs.
As with most hopeful visions, we are still discerning ways to live into what our emerging understandings require of us. Even so, it is imperative that we take intentional steps to develop equity practices in our work. Maddox is in a state of becoming with more unknowns than knowns but, with hopeful hearts and rested souls, we invite you to join us as we respond to the call for justice and equity.
Learn more about the Maddox Fund's commitment: