With gratitude for the compassion and determination of our nonprofit partners, The Dan and Margaret Maddox Fund is honored to announce our 2020 grants to support education, marginalized youth, and wildlife conservation in Middle Tennessee.
The discernment of our grant committee and board was unique this year. Applications were submitted on January 15, a lifetime ago in the wake of the tornados and the spread of the coronavirus. Making decisions about future funding in a season of uncertainty was humbling, to say the least.
The Maddox discussions focused around two primary themes:
Trust: We trust our nonprofit partners to know the needs of the people and environments they serve, as well as the best way to redesign programs to meet those needs.
Flexibility: Program descriptions and outcomes written on January 15 are, in many cases, obsolete. We will be flexible, listening to and working with our partners to best meet our shared missions to better the lives of young people and further wildlife conservation.
In 2019, The Maddox Fund made a commitment to equity and justice, stating: "Undergirding this commitment is the conviction that all human beings are interconnected, not just with one another, but with all of nature – a belief that makes our desire to foster connection and a sense of belonging even more urgent."
Over the past several months we have learned that connection and belonging are essential to our well-being – indeed, to our survival – and yet xenophobia and racism, as well as our continued disregard for creation divide us. The Maddox board of directors remains committed both to dismantling historic systems that marginalize our neighbors and to creating liberating systems to take their place.
In times of crisis we may be tempted to suspend our core values, but we must remember that crises are everyday realities for our neighbors who struggle on the margins and for environments threatened by deregulation and abuse. Maddox will live out its commitment to justice and equity for people and all of nature through our 2020 partnerships with 71 organizations.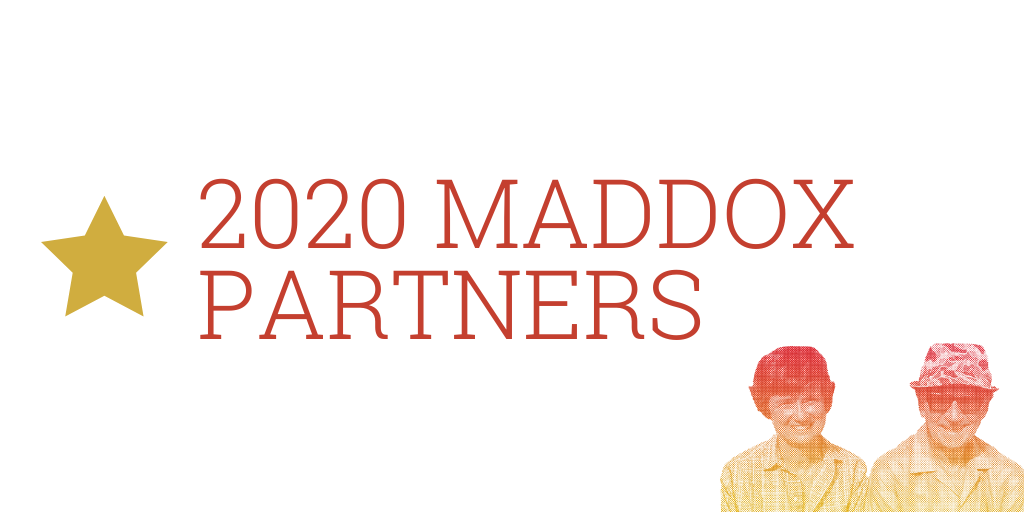 100 Black Men of Middle Tennessee
American Baptist College
American Muslim Advisory Council
Belmont University
Bethlehem Centers Of Nashville
Big Brothers Big Sisters of Middle Tennessee
Book Em
Boys & Girls Club Of Maury County Inc.
Communities In Schools of Tennessee
Conexion Americas
Crossroads Campus
Cumberland River Compact
East Nashville Hope Exchange, Inc.
Edgehill Neighborhood Partnership
Equal Chance For Education
FiftyForward
Fisk University
Franktown Open Hearts
Friends of Mill Ridge Park
Gallatin Shalom Zone
Girl Scouts of Middle Tennessee
Governor's Books From Birth Foundation
Hands on Nashville
Harpeth Conservancy
Harvest Hands Community Development Corporation
Homework Hotline
Horizons @ University School of Nashville
King's Daughters Child Development Center
Launch Pad
Legacy Mission Village
Lewis County Historical Society
Lipscomb University
Martha O'Bryan Center
McNeilly Center For Children Inc
Monroe Harding
Nashville Freedom School Partnership
Nashville International Center for Empowerment
Nashville Peacemakers
Nashville Public Education Foundation
Nashville Public Library Foundation
Nashville Teacher Residency
Nations Ministry Center
Nature Conservancy, Tennessee Chapter
Oasis Center
Operation Andrew Group, Inc.
PENCIL Foundation
Persist Nashville, Inc.
Project Transformation Tennessee
Raphah Institute
Safe Haven Family Shelter
Salama Urban Ministries
Southern Word Inc
St. Luke's Community House
Teach For America Inc
Tennessee Aquatic Project And Development Group Inc
Tennessee Educators Of Color Alliance
Tennessee Environmental Council
Tennessee Immigrant And Refugee Rights Coalition
Tennessee Justice for Our Neighbors
Tennessee State University Foundation
Tennessee Wildlife Federation
Tennessee Wildlife Resources Foundation
The F.I.N.D., (Families in Need of Direction)Design
The Land Trust For Tennessee
Wayne Reed Christian Childcare Center
Why We Can't Wait
Women of Color Collaborative
Workers' Dignity Project
Young Men's Christian Association of Middle Tennessee (YMCA)
Youth Incorporated
YWCA
The Maddox Board of Directors gives thanks for the generosity of Dan and Margaret Maddox that continues to serve the Middle Tennessee community.
Mission: To better our community through partnerships that improve the lives of young people and further wildlife conservation.
Values:
We believe education and knowledge are transformative
We champion just and equitable systems and policies
We manage our resources with integrity and transparency
We honor the voices of marginalized communities
We engage our work with humility and curiosity
We celebrate courageous leadership
We embrace the shared responsibility to better our community and protect our wildlife habitats