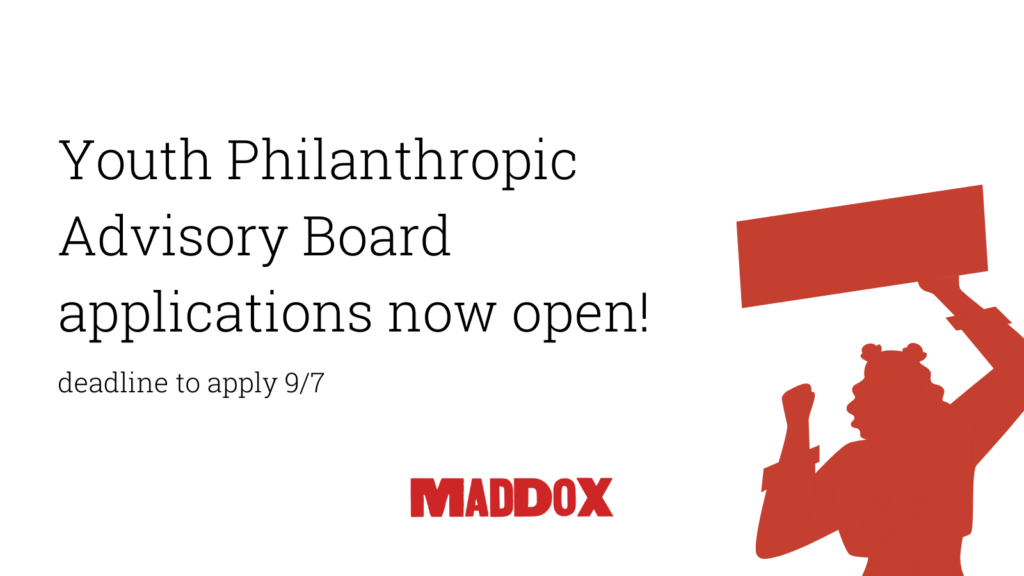 The Dan and Margaret Fund is pleased to announce the Youth Philanthropic Advisory Board applications are open! This participatory grantmaking initiative is an effort to share power and integrate the voices of the community in processes. We are currently accepting applications for youth (ages 16-19) to be a part of the inaugural class of advisory board members. The Youth Philanthropic Advisory Board will also receive a $1,000 stipend for participating.
The Youth Philanthropic Advisory Board will:
Work as a team with fellow Youth Philanthropic Advisory Board and Maddox Fund staff to distribute up to $100,000 to nonprofit organizations in grants.
Advise Maddox staff on engaging, encouraging, and inspiring other young people to use their Voice.
Actively participate in the planning of program services and activities.
Become knowledgeable on community challenges and have a willingness to offer creative solutions.
Support the planning and coordination of outreach activities in Nashville communities.
Participate in additional supports that may grant access to leadership development and other community service activities.
Requirements:
Youth between the ages of 16-19 years old and reside in the 37013 zip-code of Nashville and Davidson County.
Complete Youth Advisory Board Application
One (1) letter of recommendation
Attend all scheduled meetings

Thursdays through the Fall Semester, 5:30 – 7:00 PM
Saturday, September 18th, 10:00 AM – 2:00 PM
Saturday, October 9th, 10:00 AM – 2:00 PM
Applications are due August 31st! Applicants will need to upload one letter of recommendation along with their application. We will notify all applicants about their application by September 4th. If you have any questions, please e-mail La'Kishia Harris – youth@maddoxfund.org